We understand that getting behind the wheel an Audi means so much more than just your primary form of transportation. So wouldn't you want your Audi to drive at peak performance always? With the recent opening of our all-new Service Center in Los Angeles, we want you to have access to quick and easy service to get you back on the road as soon as possible. Let us introduce you to the Audi Beverly Hills Service Center's Shop Foreman, Edgar Gonzalez.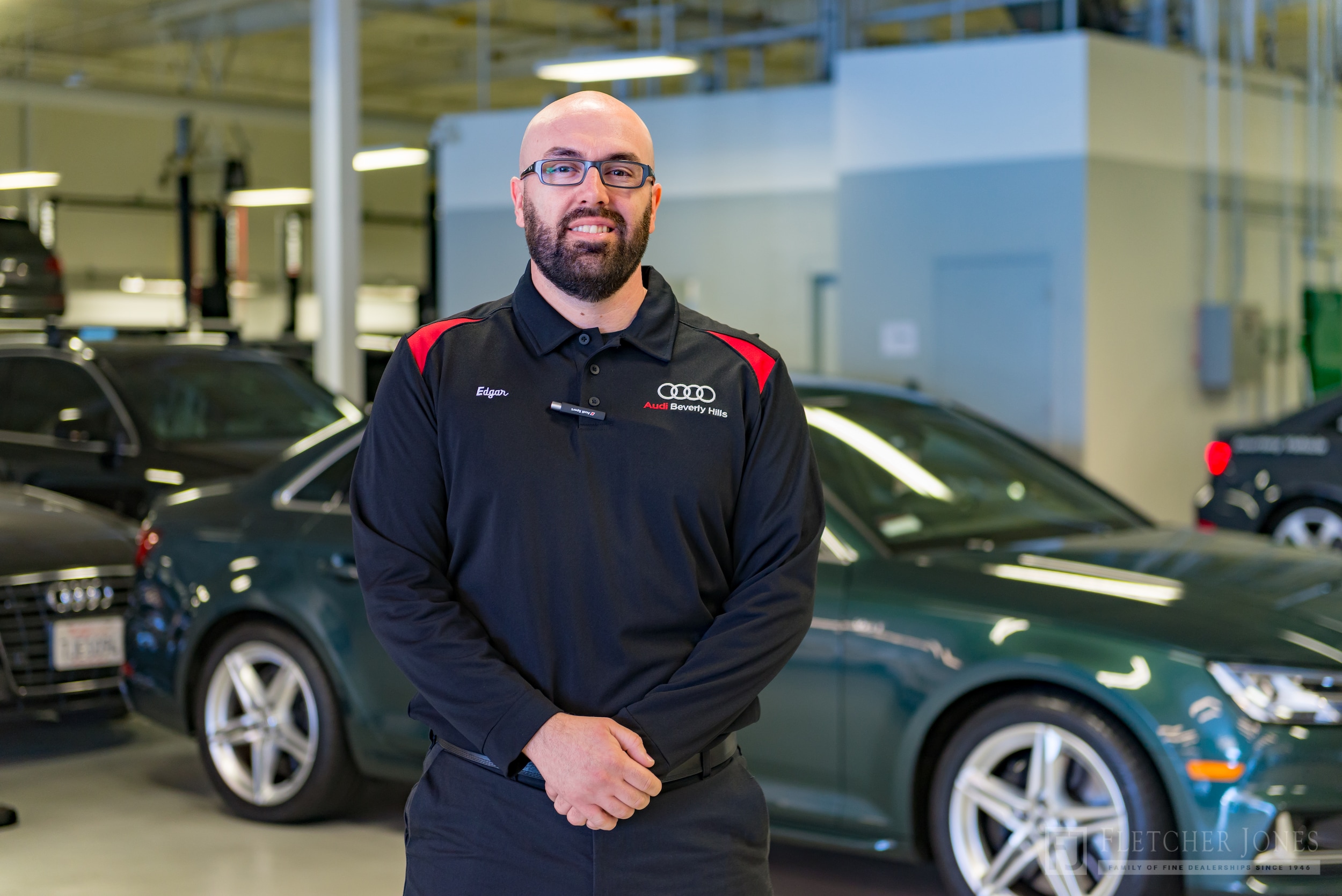 ABH: What is your job title?
EG: Shop Foreman
ABH: What are some of the things you do?
EG: I oversee the shop's production, assist technicians with diagnosis, help the Service Advisors with customer questions and concerns in the service drive, and I stay up-to-date on the latest Audi products. I also assist the Audi Parts Department and Warranty with any questions.
ABH: How long have you been with Audi BH?
EG: 5 years
ABH: Why did you choose to work in the Automotive Industry?
EG: My love for cars—performance or classic! I enjoy the challenge of finding solutions to the vehicles we diagnose even if it isn't always easy, and the satisfaction that comes with it when the vehicle is fixed, putting a smile on our customers' faces!
ABH: Why Audi BH?
EG: We have a great management team and outstanding group of qualified technicians that are eager to expand their skill set. I find it very rewarding to share my 15 years of experience with some of the younger technicians on our team!
ABH: Audi BH is the Nation's #1 Dealer, but it wouldn't be without the help of our team! How do you go above and beyond for our guests to ensure we stay #1?
EG: My love for sports in my youth taught me TEAM effort always wins! Knowledge of the brand is the key to explaining any and every detail to a customer about their vehicle.
ABH: What do you love the most about your job?
EG: The fact that I was able to turn a passion for cars into a career. I love the challenge, I love that it's never repetitive; every day is a different!
ABH: What are your favorite hobbies?
EG: I enjoy playing soccer, baseball, golf and working on classic cars!

Visit Our New Service Center
Have you visited our new Audi Service Center located at the Fairfax District in Los Angeles? If not, we encourage you to stop by and say hello to our Shop Foreman, Edgar while you receive your complimentary car wash, and free coffee—no strings attached, throughout April for National Car Care Month!
You're definitely NOT going to want to miss out on these Spring Service Offers. Click here to schedule your service reservation at our new facility.