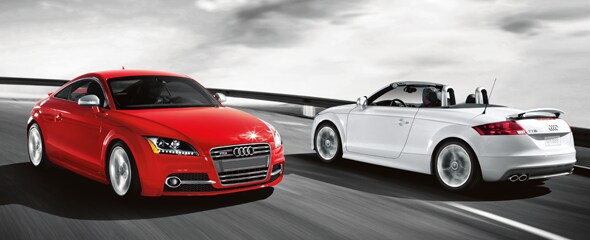 Audi TTS Coupe
& TTS Roadster | Audi Beverly Hills
The TTS adds elegance to performance
The
Audi TTS Coupe
brings a boldness to performance driving. Its powerfully designed Audi Singleframe® grille hints at a potent 2.0-liter turbocharged TFSI® engine generating a plentiful 265 hp. The interior's upscale materials like Silk Nappa leather and Brushed Aluminum inlays continue to evoke performance. Taken as a whole, the TTS defines the S badge it wears so well.
Lift off with the top down in the
TTS Roadster
. The Audi TTS Roadster brings you top down freedom. It's a distinctive vehicle with a 2.0-liter turbocharged TFSI® engine, Audi magnetic ride suspension and legendary Audi quattro® all-wheel drive. Plus its 12-way power front sport seats and acoustic power-folding roof make owning the TTS Roadster a perfect excuse to keep driving.
Make your move with quattro®
Nothing should get in the way of a great driving. Thanks to Audi quattro® all-wheel drive, the Audi TTS achieves unparalleled grip and control by distributing power to the wheels that need it most. So whether it's inclement weather or a beautiful day, the TTS Coupe helps hug the road and the turns with no intention of letting go.
Lighting that stands out, day or night
The profile of the TTS isn't the only thing that announces your arrival. Unique LED daytime running light technology makes your presence known to other drivers from dawn until dusk. Adaptive xenon plus headlights help illuminate the road as you move swiftly into the night, even turning up to 15 degrees to illuminate curves. This is lighting technology that makes the TTS shine on every drive.
Turbocharged to thrill
The heart of excitement in the TTS is the 2.0-liter turbocharged TFSI® engine. Producing 265 hp and 258 lb-ft of torque, this is power that can't help but motivate the senses. The result is ample power combined with the virtually uninterrupted shifting ability of the Audi S tronic® dual-clutch transmission. It's time to drive.
Less weight for more excitement
We replaced steel with aluminum by using Audi ultra® lightweight technology featuring ASF® aluminum construction. This engineering feat not only reduces weight while maintaining rigidity, it helps give the Audi TTS quicker acceleration, shorter braking distances and increased fuel efficiency.*
Heads will turn when the convertible top is down

For other drivers who pull alongside the Audi TTS Roadster, the top down view is a revelation. For you it's just another day of acting on your impulses. Impulses that will be answered at a touch of a button should a rain cloud appear. Even if you're travelling at speeds of up to 31 mph, the sound dampening acoustic roof seals you away from the elements and the envious.
*EPA estimates not available
EPA estimates not available at time of publication. See www.fueleconomy.gov for updated information. Your mileage will vary and depends on several factors including your driving habits and vehicle condition.
Source: http://www.audiusa.com/models/audi-tts-coupe