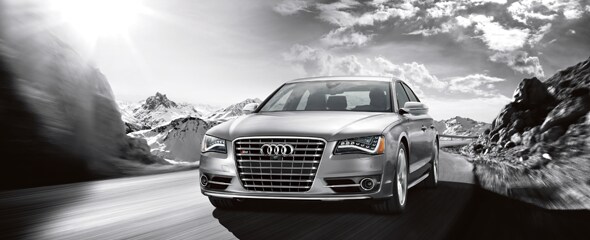 Audi S8 | Audi Beverly Hills


The S8 is engineered for performance on a grand scale
The Audi S8 is as much glitz as Grand Prix. It not only exudes style, it pulses with a 4.0-liter TFSI® V8 producing an astonishing 520 hp and 481 lb-ft of torque. This is an exclusive experience for those who understand that performance and power can and should be part of a truly refined driving experience.
The lightweight core of dynamic driving
Like a well-trained athlete, performance comes easy for the S8 thanks in no small part to ultra® lightweight technology featuring the ASF® high strength aluminum frame. It makes the S8 agile and easy-to-handle. This increases efficiency without compromising rigidity or vehicle performance.
Intelligent power
Even Audi engineers believe in downtime, at least in a manner of speaking. Our 4.0-liter TFSI® V8 is capable of up to 481 lb-ft of torque when the situation calls for it. But in more relaxed conditions, the Audi cylinder on demand? engine efficiency technology deftly deactivates four cylinders, helping minimize fuel consumption.* That's smart and efficient thinking.
Handle the road intelligently with quattro®
Speed by itself isn't enough. Audi quattro® all-wheel drive with torque vectoring and a sport differential helps the S8 react confidently in almost any road condition. Under normal road conditions, the S8 is rear-biased with a 40:60 rear power split, giving it agility and stability. And when conditions change, torque is distributed to the wheels that need it most. This is intelligent performance.
Lighting that makes a mark
Brilliant and iconic, the Audi S8 employs full LED headlight technology. Strikingly designed and brilliantly effective, these lights help recreate daylight and can reduce the strain on the driver's eye.* And fast-acting LED taillight technology helps ensure you'll be spotted by other drivers
*S8 Fuel Economy
15 city/26 highway mpg (2016 S8 4.0T with eight-speed Tiptronic® automatic transmission). EPA estimates. Your mileage will vary.
Source: http://www.audiusa.com/models/audi-s8