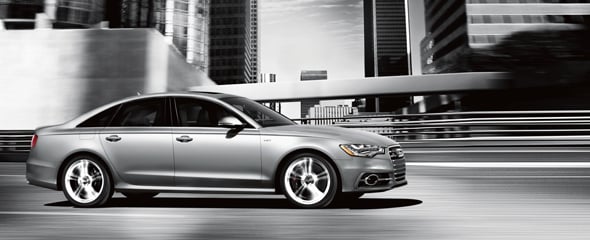 Audi S6 | Audi Beverly Hills


The Audi S6 announces your arrival


The Audi S6 is a sport sedan that exemplifies control, with poise to tackle the everyday drive and athleticism to take on the best canyon roads. The S6 pairs the 4.0-liter TFSI® V8 engine with legendary Audi quattro® all-wheel drive and a sport differential. Advanced features include MMI® touch, Audi S tronic® dual-clutch transmission and Audi connect® with Google Earth?. The result is inspired handling with elegance and style.
An engine intelligent enough to use its power wisely

The 4.0-liter TFSI® V8 in the Audi S6 is the rare breed that knows how to exercise restraint. When called upon, the engine can deliver up to 420 hp and 406 lb-ft of torque. In more relaxed conditions, Audi cylinder on demand? engine efficiency technology deftly deactivates four cylinders to create a more efficient drive.*
A balancing act mastered by quattro®

When putting the performance-oriented Audi S6 through its paces, you'll appreciate its spirited driving. That confidence-inspiring grip is thanks to Audi quattro® all-wheel drive with torque vectoring and a sport differential to harness power precisely. It's perfect for both twisty back roads and inclement weather. That's a balancing act you'll appreciate.
Lightweight construction leads to strong results
Losing weight isn't just a goal. It's an obsession. Audi engineers know that every aspect of a vehicle can work with or against its performance. Which is why the S6 uses Audi ultra® lightweight technology featuring aluminum hybrid construction.
Lights that command attention
Audi LED lighting technology is undeniably distinctive. When other drivers glance in their rear view mirror, LED daytime running light technology helps the S6 stand out. LED taillight technology grabs much needed attention, day or night. And brilliant available full LED headlights help recreate daylight and can reduce the strain on the driver's eye. Now that's bright.
*S6 Fuel Economy
17 city/27 highway mpg (2016 Audi S6 with seven-speed Audi S tronic® transmission and Audi quattro® all-wheel drive.) EPA estimates. Your mileage will vary.
*EPA estimates not available
EPA estimates not available at this time. See www.fueleconomy.gov for updated information. Your mileage will vary and depends on several factors including your driving habits and vehicle condition.
Source: http://www.audiusa.com/models/audi-s6